Events
At Flying Fish, we like to not only stay active on the water, but involved with the community. One of our main goals is to get kids interested in the sport of Stand Up Paddle, to get them outdoors and active!
At the shop we do a few things to encourage participation from the community and that includes: regular SUP yoga classes, leisure group paddles, TNT fitness races, and Bi-annual Paddle Challenges!
SUP Yoga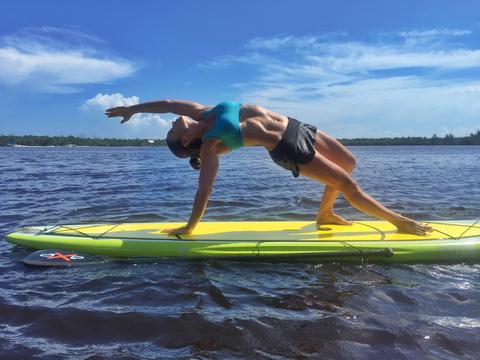 Taught by Stuart, FL local, SUP Yoga is truly a unique, and rewarding experience. One which you can literally breathe in the beautiful outdoors and breathe out your stresses from the week. This class is for beginners and advanced yogis alike, but everyone can take it at their own pace.
Group Paddles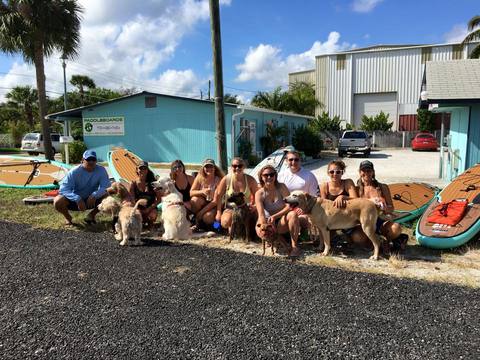 Group paddles are announced on our social media platforms, particualrly Facebook and MeetUp. Group outings vary from puppy paddles, full moon paddles, to Manatee Pocket tours. 
Thursday-Night-Throwdown Fitness Races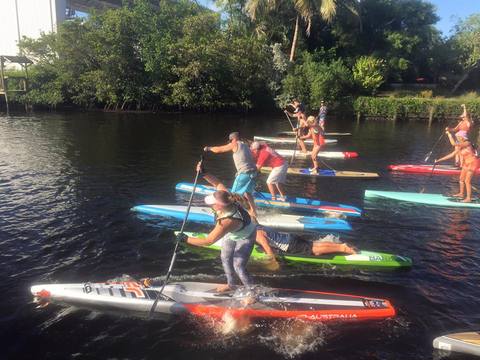 Throughout the year, we do a couple 10-week programs every Thursday night (weather permitting) and time paddlers progress as they paddle one of 3 course lengths, There is the 5-mile Elite course, 3-mile Open course, and a 1.5-mile Beginner course. At the end of the 10-week period, we meet for a party/awards ceremony which is paid for by the $10 dues each week. 
Bi-Annual SUP Races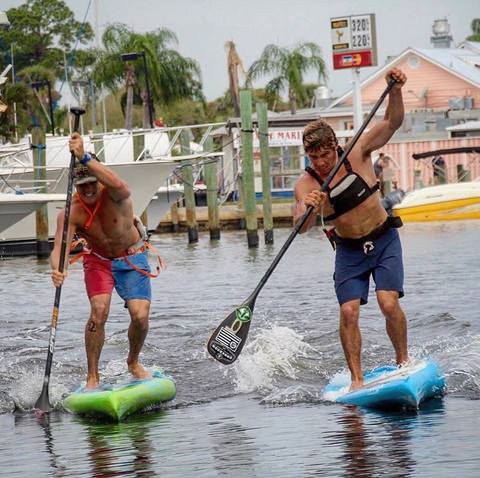 Every spring and summer we hold paddleboard races at either the shop or a local venue. Each year, the turn-out has grown, and we love being able to get the community together for such a fun event! There's usually a 6-mile Elite course or a 3-mile Open course and we have everyone from trained athletes to mom's with their children on their boards competing in the festivities. The events are catered, and food, beer and refreshments are included with your registration fee.
Ultimately, our goal is to share the excitement and fun that Stand-up Paddleboarding has to offer. It is more than just a hobby or sport, it's a lifestyle!