Locals Tackle the 2015 Key West Paddleboard Classic
Posted on May 06, 2015 by Flying Fish Paddle Sports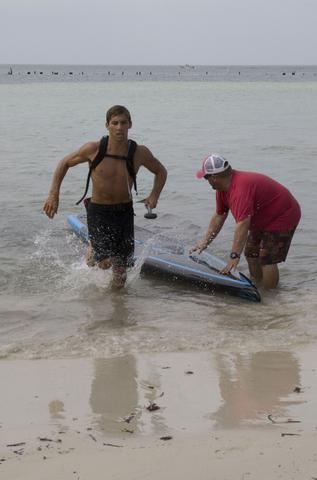 Billy crossing the finish line on his new Darkroom custom 14' by Bote Boards.
It's always a challenge, 12 miles of wind, chop, strong currents, and top competition. This year's Key West Classic was no different and our local racers rocked it! Especially team Flying Fish riders Billy Swezey and Joey Huempfner. Billy finished 2nd place overall just 5 seconds behind the winner Kieran Grant in the 14' class. Joey also made the podium finishing 5th in the men's 12'6" class, and at only 17 years of age he finished 2nd in the 19 and under class. I could not be more proud of these outstanding young men! Thanks to intense training groups and local race leagues at both Blueline in Jupiter and our Thursday night race league here at Flying Fish, area paddlers are quickly becoming some of Florida's best. If you have any interest in SUP racing please stop by the shop or join us on Thursday nights for our race league. Thursday Night Throwdown (TNT) kicks off a new 10 week season on May 14th at 6:00pm.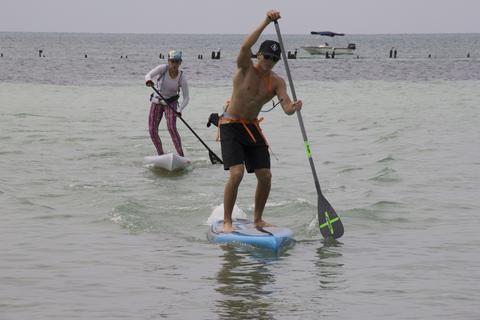 Joey Finishing strong!
Me finishing not so strong! (no seriously, fighting major cramps due to challenging conditions)
I apologize in advance if there are any paddlers that I left out. Here are the ones I know from the Jupiter/Stuart crew. Great Job everyone!
Here are the locals that made the podium.
1.Billy Swezey (Team Flying Fish) 2nd place, men's 14'  time 2:06:09 *only 5 seconds behind the winner!
2. Kim Barnes 2nd place, women's 12'6" time 2:24:06
3. Joey Huempfner (Team Flying Fish) 5th place, men's 12'6" time 2:25:02
** Joey is only 17 years old, finished 2nd for his age group 19U.
4. Alexandra Menk 1st place women's 14' time 2:25:08
5. Steve Barnes 1st place  men's prone time 2:27:16
Here are the other locals and their places
Rev Thom 9th place men's 14' time 2:13:50 *3rd in age 40-49
David Dean 16th place men's 14' time 2:22:22 *3rd in age 50-59
Steve Bernstein (Team Flying Fish) 7th place men's 12'6" time 2:27:10 *2nd in age 40-49
Stephen Chase 20th place men's 14' time 2:27:44 *3rd in age 30-39
John Meskauskas (Team Flying Fish) 9th place men's 12'6" time
2:28:36 *3rd in age 40-49
Travis Kindt 14th place men's 12'6" time 2:31:35 *5th in age 20-29
Nessa Brunton 10th place women's 12'6" time 2:47:59 *1st in age 50-59
Sierra Groth 15th place women's 12'6 time 2:50:43 *2nd in age 20-29
Rachel Ferguson 19th place women's 12'6" time 2:58:28 *3rd in age 20-29
Frank Marino 8th place SUP surfboard time 3:03:30 *4th in age 50-59
Mike Faulkner 35th place men's 14' time 3:04:37 *12th in age 40-49
Others who did the 4 mile open race
 Ryan Boettner 1st place men's 12'6" time 53:06 
Kim Depasquale 5th place women's 12'6" time 1:12:33
Danyella Lustosa 6th women's 12'6" time 1:12:51
Alex Cotleur 7th place women's 12'6" time 1:13:44
Debra Borger 1st place women's SUP surf time 1:13:56